The book that Not-In-My-Backyard (NIMBY) activists, operatives, and ghosts don't want you to read is a few weeks away! Join Our Growing Movement to Change the Odds to Your Favor.
The NIMBY Matrix™ is the best kept secret in the real estate development industry. In Breaking Out of the NIMBY Matrix™: Red Pill Successes in a Digital NIMBY World – author Patrick Slevin reveals the controversial and false reality of status quo opposition infamously known as NIMBY.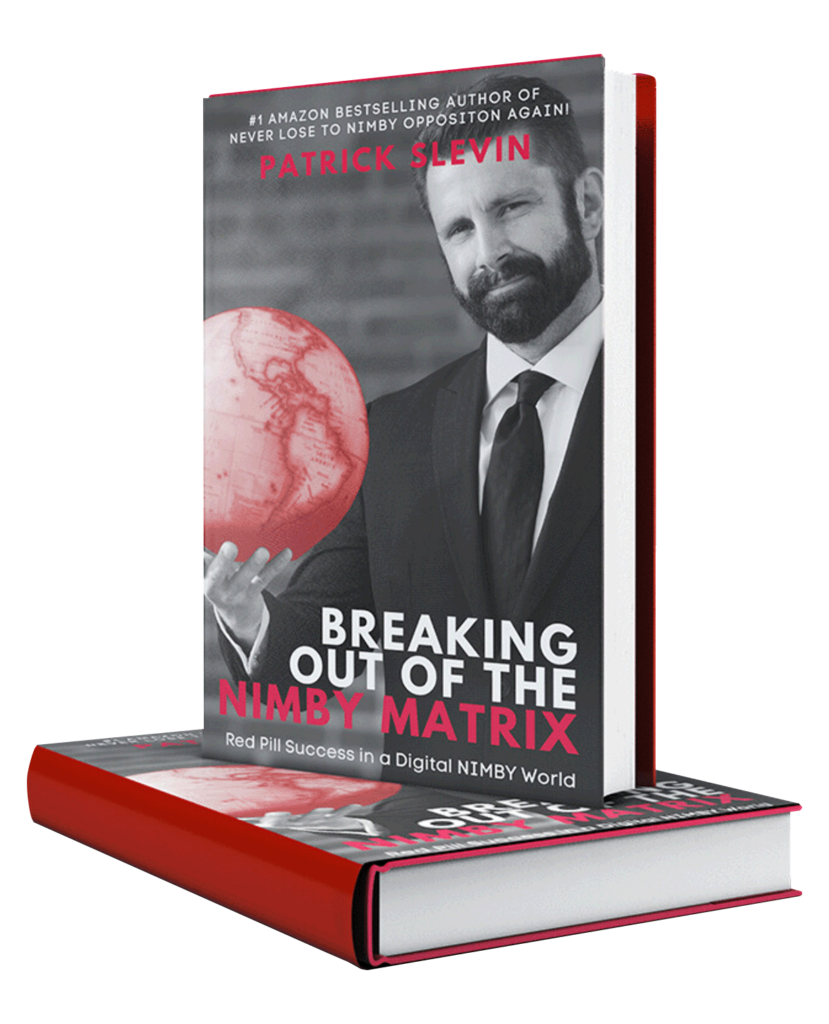 In his book, Slevin explains how the NIMBY Matrix™ has been responsible for instigating NIMBY activism costing companies unreported millions, industries unmentioned billions, and our national economy unimaginable trillions of dollars in losses.
For decades, anti-development opponents have mobilized their forces against developers within this false construct, which Slevin calls the NIMBY Matrix™. Once the book is published in late May, it's expected to be an instant bestseller and classic.
The NIMBY Matrix™ can be seen manifesting itself on Facebook, in the news media, and public hearings every day, of every month, of every year. In his new book, Breaking Out of the NIMBY Matrix™, Slevin exposes how the NIMBY Matrix™ gets its license to deceive and how it materializes when you least expect it.
NIMBY activists don't want Slevin sharing his nearly 30 years of secrets, strategies, and solutions on overcoming and neutralizing NIMBY forces.
To ensure you get your copy of Breaking Out of the NIMBY Matrix™, go to www.NIMBYMatrix.com to sign up for special promotions as part of the upcoming launch on Amazon that will forever change the real estate development industries.
Sign Up Today at www.NIMBYMatrix.com.