In today's Digital Age, land-use development executives, project managers, and consultants continue to rely upon a fly under the radar approach hoping to avoid community opposition. This decades old "devil you know" mindset is dangerous, exposing real estate projects to greater financial risks, political backlashes, and costly defeats caused by NIMBY – the very threat it was meant to avoid.
I first witnessed this early in my public affairs career when I was a Florida mayor (1996-1999). A developer wanted to rezone some acres to build condos. The planning director informed me that the project had no glitches or problems. It was smooth sailing. However, on the night of the public hearing, city hall was filled with angry neighbors who had heard recently about the project through the grapevine and when the public hearing notices came out.
The developer was shaken, taken off guard, and had that deer in the headlights look, while the opposition tore into him during the public comment segment. What began as a routine approval process turned into the typical NIMBY spectacle. It didn't help that I had two commissioners running for re-election who counted votes that night and changed their yeses to no, and a third commissioner followed suit. The flying under the radar didn't help the project, which made my job harder to get it approved. Little has changed since then. I've seen this pattern repeat itself thousands upon thousands of times over the last 25 years. There's a better way.
Developer's Devil You Know Paradigm
No one in the real estate development industry wants to attract NIMBY opposition towards their proposed land-use applications. In order to ensure such negative attention is avoided, developers and land-use professionals have operated under an informal corporate practice of flying under the radar. This is a strategic decision going back decades well before the advent of social media and instant-global communications.
For some time, this modis operandi worked with the occasional NIMBY crisis hitting the fan. However, the decision of flying under the radar is equivalent today to playing Russian Roulette, hoping your project doesn't have to bite the bullet. That's hardly responsible with millions of dollars on the line.
Exorcise the Corporate Possession
It's ironic, the land development industry champions the benefits of change to local communities. Yet, development teams refuse to change themselves, choosing to keep the "devil you know" or status quo practices, which abdicates the strategic high ground to the opposition enabling them to instigate conflicts leading to public controversies and project crises.
Today, NIMBY opponents can quickly setup a Facebook opposition page, dupe reporters, mobilize neighbors, circulate petitions, lobby elected officials, and distribute marketing collateral (yard signs, flyers, blogs). In many cases, under the noses of the development team themselves. Typically, development teams learn of the rising wave of NIMBY opposition from the planning department, which is too little, too late.
In my 2021 #1 Amazon bestselling book, NEVER LOSE TO NIMBY OPPOSITION AGAIN! I share tactics on how to Minimize the Target on Your Project's Back. After the NIMBY hits the fan, the tactics essentially augment the communications and engagement deficits created by the fly under the radar practices.
For example, the first response to a NIMBY conflict is offering to host a town hall meeting. Bad idea! This is giving the opposition want they want – a platform to attack the project in the public square – again. Nine out of ten town halls turn into what I've called Jerry Springer episodes.
The "Devil You Know" mindset is reactionary, which simply puts your company, your team, and your project in a defensive, reactionary, if not submissive position, which doesn't convey confidence to local decision makers.
It's time for the industry to accept the reality that flying under the radar is no longer a viable strategy to consistently and confidently secure the license to operate in local markets.
Once corporate leaders and consultants acknowledge this is an old practice with too many liabilities, then you can begin working on modern-day strategies and real-time practices that exorcise the demons that dwell within the organization.
That's when corporate professional training can take place to instill new practices that'll break down "devil you know" silos that have for too long undermined sustainable projects from getting approved.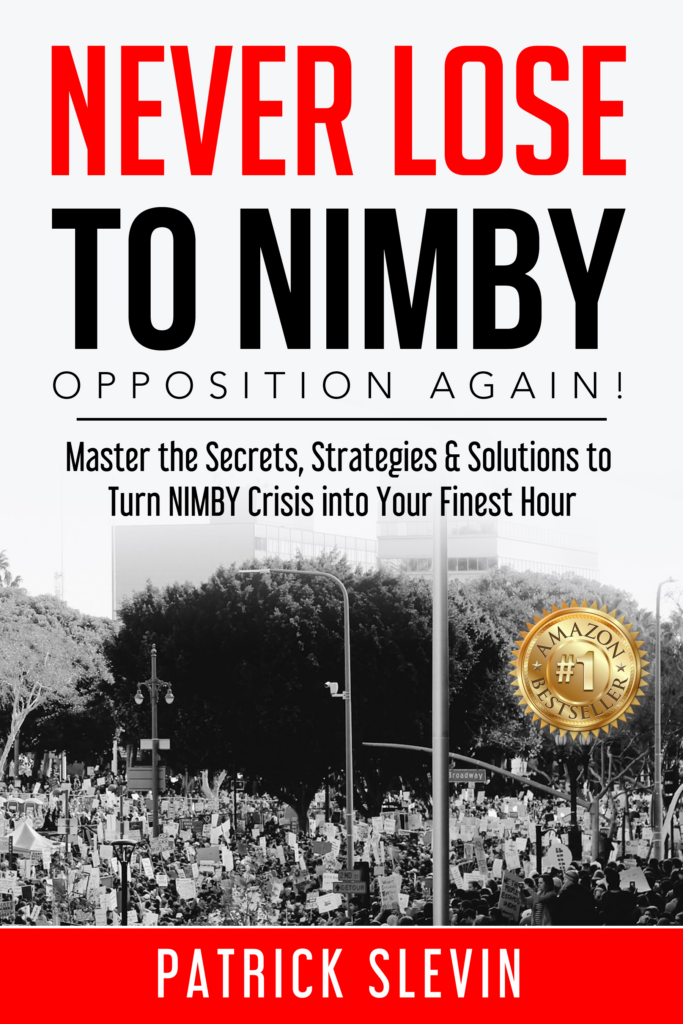 The secret to Never Lose to NIMBY Opposition Again! is understanding the revelation that conflict sustains NIMBY crisis threatening your projects. When there's no controversy, then the public isn't as hyped against change, and emotions and fear have a chance of being superseded by logic and facts. 
This blog article is an excerpt from Patrick Slevin's #1 Amazon bestselling book, Never Lose to NIMBY Opposition Again! published in 2021. 
To get your FREE copy of his book click HERE and use Promo Code: NIMBYSecret1. You pay a small shipping and handling fee of $7.95.